The International Loving Touch Foundation (ILTF) is one of the first established training programs of infant massage in the world. ILTF is an independent organization that provides training's, resources and classes in the field of infant massage & baby massage. Loving Touch® educates individuals and groups in 2 & 3-day Evidence-Based Practice (EBP) hands-on certification trainings, known as the CIMI® (Certified Infant Massage Instructor) Training Program.
Participants for Certification: Should have clinical background and or understanding of infant development. ( Practitioners , nurses, social worker and allied health professionals
Staffs in the NICU , Early Childhood Educators & teachers , Physiotherapists / Occupational and Speech or Language, etc.)
For details: please visit www.lovingtouch.com or email: touch@h3touch.org
Coming Class schedule: Every Monday night from 7-10pm of each month in 2018.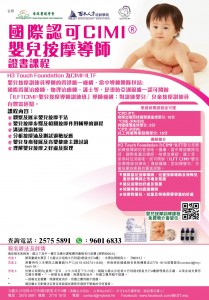 Latest schedule of 2018 CIMI_BB_poster
Class A   7 & 14 Jan 2019 (Mon) 1900 – 2200  26 Jan 2019 (Sat) 1400 – 2000
Class B   2 & 16 & 23 & 30 March 2019 (Sat)
1. H3Touch Training Center at Sham Shui Po or Sai Ying Pun or Tsim Sha Tsui