We Provide Infant Massage, Pediatric Massage, Pediatric Special needs massage, Infant Yoga, Pre/Postnatal Massage, Pet Massage, Aromatherapy course etc.我們提供嬰兒按摩導師課程, 嬰孩瑜伽導師課程, 幼兒按摩導師及治療師課程, 產前/後孕婦按摩課程, 寵物按摩課程及香薰治療按摩及天然護膚品DIY課程.
Infant Massage / Infant Yoga Teacher 國際認可PIMI®嬰兒按摩及瑜珈導師訓練課程本課程為國際嬰兒按摩認可課程,學員可於畢業後成為合資格的嬰兒按摩及瑜珈導師,教授組別或私人的嬰兒按摩課程,並推動親子間的愛撫及溝通。嬰兒按摩嬰兒按摩主張愛撫及溝通,是一門源遠流長安撫嬰兒的方法,加強親子連繫。除了溝通及眼神接觸外,愛撫是人類建立關係的重要原素。嬰兒按摩包含了所有增進溝通的原素。某些因素如因早產而導致的短暫分離、剖腹分娩後母親需要較長的復原時間、受其他病患困擾、領養、母親於產後得不到適當的照顧,甚至產後抑鬱等等,均會影響親子關係。惟嬰兒按摩是能促進及建立親子感情其中一個良方。課程內容:- 觀察及展示嬰兒按摩及瑜珈手法- 嬰兒按摩步驟及相關按摩作用輔導的過程- 溝通理論教授- 分析按摩油及測試過敏反應- 嬰兒身心發展及育嬰健康主題討論- 理解嬰兒按摩之好處及原理- 科研及理論- 特殊兒童需要Online enrollment: 即時報名   (Monthly 2019 class are now for enrollment)國際認可

CPMI®兒童按摩導師訓練課程

Certified Pediatric Massage Instructor Training | Top up CIMI or PIMI | Shamshuipo, Kowloon| HONG KONG

Certified Pediatric Massage Therapist & Instructor Course is coming Hong Kong in June / August / October 2018

This Accredited 2-day professional training will be held at H3Touch Training Center in Shamshuipo,Kowloon, Hong Kong.

The comprehensive Pediatric Massage Training for massage therapists and health care professionals provides educational and professional training to those who wish to enhance their skills.

Pediatric massage techniques for working with children with varied physical, developmental, and mental challenges will be demonstrated and practiced during hands-on in class sessions. The benefits and importance of individualized adaptations, including cultural considerations, for using massage therapy will be explained.

During this training, we will review respectful, mindful considerations and suggest how to introduce your touch in the correct manner for children. Unique communication skills to expand interaction and engage children in massage therapy are also learned.

l   Practitioners , nurses, social worker and allied health professionals

l   Early Childhood Educators & teachers

l   Physiotherapist (CPD) / Occupational and Speech Language Therapist

International Accredited certificate from Complementary Therapist Association, UK and H3Touch, HK

Date:         Monthly schedule refer online enrolment form below

Online enrolment   (SEP 2019)

Time:         1900 – 2200 or 1000 – 1700 (WANCHAI)

Medium:       Chinese (with some English notes)

Please make bank in payment to Chong Hang Bank : 283101004007 or you could email us for other payment method.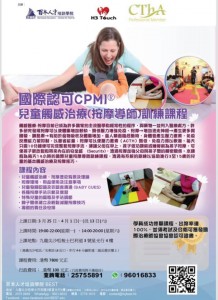 Certified Pregnancy Massage Therapist course (Touch Therapy)
Two days training course open to Touch therapist with interest in teaching Prenatal massage and for PIMI/CIMI/CMPT with or without A&P qualifications could choose one day top up class. Pregnancy brings with it a variety of side effects, and nearly all pregnant women can expect to experience at least a little stiffness and muscular tension during their pregnancy as their uterus expands to accommodate their growing baby. Massage therapy during pregnancy can often relieve many of the common side effects of pregnancy, whether you suffer from backaches, headaches, oedema or other pregnancy related problems This workshop aims to give you the skills, knowledge and proficiency to practice and teaching partner for Pregnancy Massage safely and effectively and add this to your complementary therapy treatment menu.
COURSE COVERS:
What is Pregnancy Massage?
Benefits of Pregnancy Massage
Trimester Information
Effects of Pregnancy on Body Systems
Hormones and their effects
Exercise and Stretching in Pregnancy
Contraindications to Pregnancy Massage
Some Pregnancy Ailments
The Massage Treatment
How to teach partner to give massage
Consultation/Client Release Form
No practicum needed and need to finish open book examination within 3 months after training.
l   CIMI® or PIMI® or CMPT® holder for top up class
l   All items and certificate required for the course will be provided, including refreshments at breaks.
l   Tution includes: manual, online data resources support, videos and teaching materials and one year student membership
International Accredited certificate from and H3Touch, HK member of Complementary Therapist Association, UK
Online enrollment: 即時報名  Dec 2019
https://www.paypal.com/cgi-bin/webscr?cmd=_s-xclick&hosted_button_id=4B7KAW9ZG2NGA

PARENT INFANT MASSAGE EDUCATOR PIME®  親子嬰兒按摩指導員課程
 嬰兒按摩是一門源遠流長安撫嬰兒的方法,透過父母與嬰兒之間的身體接觸,加強親子連繫。現階段已有大量臨床研究證實父母向嬰兒進行按摩,對其成長發展好處良多,現更已廣泛應用於歐美澳洲等地。課程除了講解嬰兒按摩背景及理論外,亦會教授嬰兒按摩手法、按摩用品使用及其他注意事項,協助學員掌握當中技巧以指導父母或照顧者在家中進行親子嬰兒按摩練習。
 指導員角色: 透過觸撫和按摩以促進幼兒健康發育並加強親子關係和溝
內容:
•      嬰兒按摩歷史背景及理論
•      按摩環境、用品使用及注意事項
•      嬰兒發展認識及非語言溝通(BABY CUES)
•      各種嬰兒按摩手法示範及實習
-        I Love You 按摩手法
-        PAIN RELIEF 按摩手法 COLIC ROUTINE
•      嬰兒常見情况:絞痛及哭泣處理技巧
•      親子關係建立及輕鬆減壓按摩技巧
•      協助及作為指導員的責任及安排
 課程9小時(面授) , 課後實習4小時
課程費用包括: 手冊, 公仔, 按摩油, VIDEO及國際証書費用
 對象  本課程適合下列的專業人士報讀:
陪月
家傭
按摩技師
父母或希望於新行業發展的人士
歡嬰兒的人士
(課程材料以英語為主附以中文,廣東話教授)
 學員成功修畢課程,出席率達100%,並須考試合格可獲發國際治療師協會協會認可指導員證書。
Date: June 2019 (Sat)
Enrollment: https://goo.gl/forms/FhyNMl2Y56aOeZKQ2
Our Trainers including Nurses, Physiotherpist, Special education educator, Social Worker and Aromatherapist.
For continue education for CIMI® & PIMI®, you could select the following course as continue education:
1.  (QT) Level I「量子觸療」初階證書課程   Enrolment form:
Free introductory workshop on every month  online enrollment here.
2. Quantum Touch & Aromatherapy for Elders with special Care  (Dementia & Pain management Care)
     雙証書課程 (QT Level 1 & CTHA)
3. Certified Children Massage Instructor Class     Top up class for CIMI® or PIMI ®
More is coming, please visit us or join our mailing list at Contact us.
Infant massage is a bonding activity between parents and their children. Infant massage is being embraced by a wide variety of professionals who are incorporating it into their practices to help families cope with children with special needs as well as healthy full term newborns. Simply speaking, infant massage uses a variety of specialized massage techniques including, vocalization, eye-to-eye contact, and other positive behavioral reinforcements to create bonding with parents and infant.
Home based 1 to 1 infant massage teaching / Child massage & touch therapy assessment & treatment

We provide 1 to 1 home based teaching to needy infant and preterm/ SEN children.  Contact us by online form and payment.